Featured publications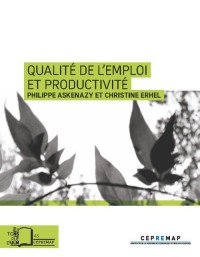 En France comme dans la plupart des pays européens, la croissance de la productivité du travail a...
Lire la suite >>
Documents de travail
RIEF Best Paper Prize awarded by CEPREMAP in 2017: Uneven growth in the extensive margin: explaining the lag of agricultural economies
Download
Events
Inscription: catherine.bluchetin@ens.fr
Since the Great Recession, France has frozen its national minimum wage. By contrast, some OECD countries have significantly raised their minimum wages at the national or local levels; Germany has even introduced a Mindestlohn in 2015. This workshop (…) Lire la suite >>
Le paradigme classique, en physique comme en économie, est celui de systèmes stables, à l'équilibre, sujets à des fluctuations endogènes «bénignes» , sans sauts ni discontinuités.
Pourtant, un très grand nombre de phénomènes, dans tous les domaines de la science, (…) Lire la suite >>
The GPM-GIMF Workshop will take place from June 26-30 at the Banque de France.
The second edition of the CEPREMAP India-China conference takes place in PSE on 4-5 May.
The conference will offer presentations of research papers, as well as keynote lectures by Pranab Bardhan (4 May) and Barry Naughton (5 May). On 4 May, we (…) Lire la suite >>
Conference with the Fondation Jean-Jaurès and the Institut des Politiques Publiques (IPP)
New Calibration (IPP)
2:00 PM: 48 boulevard Jourdan, 75014 Paris. Amphithéâtre Jourdan.
par Philippe Askénazy (CNRS-ENS-CMH) et Christine Erhel (Univ. Paris 1 – Centre d'études de l'emploi et du travail)
Discutants : Olivier Passet (Xerfi)
De 12h30 à 14h00, École normale supérieure, salle 8, 48 boulevard Jourdan, 75014 Paris.
En collaboration avec les (…) Lire la suite >>